Vetroflam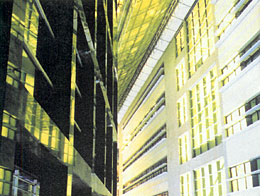 SGG VETROFLAM is produced using single-sheet glasses with a special heat reflective metallic oxide coating. Its excellent fire-resistance qualities are produced through a rigorous manufacturing process, high performance toughening and Heat Soak Testing. A strict quality assurance programme, monitored by a third party, guarantees that the glass constantly complies with the relevant standards.
SGG VETROFLAM meets the EW classification for up to 60 minutes fire resistance, providing an effective barrier against the passage of flames, smoke and hot toxic gases with a significant reduction in the transmittance of radiated heat.
SGG VETROFLAM provides consistently good optical quality, when installed either internally or externally, and can also contribute to significant improvements in thermal insulation when used in double-glazed units. It can be supplied in large sheet sizes or standard cut sizes. It cannot be worked or cut after delivery.
It is a Class A safety glass in accordance with standard BS 6206 and also conforms to prEN 12150.
MANUFACTURING OPTIONS
SGG VETROFLAM is available as standard in 6 mm single sheets. In certain circumstances, it can also be manufactured in 8 mm. In the laminated safety version, it comprises either two sheets of SGG VETROFLAM, for applications where the direction of fire is not defined, or one sheet of SGG VETROFLAM and one of SGG SECURIT toughened glass, for applications where the direction of fire is known. Subject to the fire test certification and relevant approvals, it can be combined in double-glazed units with many of the products in the SAINT-GOBAIN GLASS range.
APPLICATIONS
SGG VETROFLAM is suitable for use in both internal and external applications.
SGG VETROFLAM has been fire-tested and certified for use in applications including: partitions, doors and glazed facades using timber, steel and aluminium frames. Depending on the type of framing used, SGG VETROFLAM can provide an impervious barrier to fire, smoke and hot toxic gases for 30, 60 or 90 minutes (with special mounting), E 30, E 60 or E 90 and, also by limiting the emission of radiated heat, categories EW 30 and EW 60.
MARKING AND INSTALLATION
High mechanical strength means that SGG VETROFLAM is easy to transport and handle. Care should be taken not to damage the edge of the glass during handling. It must be installed in accordance with the appropriate fire test certifications and current national regulations. SGG VETROFLAM glass is identified by a special indelible stamp.
CLEANING AND MAINTENANCE
The procedures for site-handling, clean-up and routine maintenance are the same as for SGG ANTELIO glass.
STANDARDS AND REGULATIONS
Contact SAINT-GOBAIN GLASS.
APPLICATION
SGG VETROFLAM®
Commercial exteriors
Curtai walling - Facades
Recommended
Doors
Recommended
Glazed roofs - Atria
Possible
Interiors
Partitions
Recommended
Doors
Recommended
---